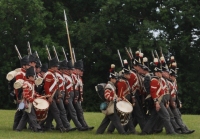 Then Sir Arthur Wellesley returns to take command of the British Army and injects a new energy into a war that had seemed lost. Determined to attack, he must rely on his Spanish allies to balance enemy numbers and more than anything else will need to know the plans and strength of the French armies. Hanley finds himself recruited for this work, and plunges into a murky world of suspicion and betrayal as it becomes clear there are hostile spies in the British and Spanish camps. In the meantime his friends serve as part of the Third Battalion of Detachments, composed of stragglers from a range of units. Williams must struggle to win the respect of a company of strangers, and all the while cope with rumours being spread about him in letters written by an unknown hand.
In the baking heat of summer, The British and Spanish march on Madrid, knowing that they must strike before the French concentrate if they are to have any hope of success. It will require cleverness and sheer courage to face down the French onslaught at Talavera.
Send me safely back again takes its name from the famous song 'The girl I left behind me' and is set at a time when French victory seemed imminent, and no one would have guessed how the war would develop and eventually be won. Our characters, like the army as a whole and its commander, are still learning how to wage war against a skilful and highly experienced enemy of far greater numbers.
Introductory VIDEO to the book

Larger image
Send me safely back again will be released as a hardback and as a kindle edition published by Weidenfeld and Nicolson on the 9th August 2012.

It will appear as a Phoenix paperback in September 2013