Yet in many ways, army officers of the period were the male equivalents of her heroines. Few officers were wealthy, and only a small minority were in fact able to buy promotion. Army officers were expected to behave like gentlemen, obliged to follow tight conventions on their conduct. They needed promotion, which in many cases was slow unless battle or disease cut down their seniors. Surviving on their pay was difficult, and even harder if they had families to support. Winning a name for themselves and surviving to claim the rewards or making an advantageous marriage were almost the only paths to success and security.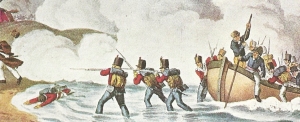 Britain's army was small and not well regarded in Europe - unlike the Royal Navy which had won itself a great reputation under leaders like Nelson. When the British intervened in the Spanish Peninsula, no one would have dreamed that the British army would play such a major part in the ultimate defeat of Napoleon's empire. Much had to do with the remarkable ability of the Duke of Wellington, and his rise will be part of this story. Alongside went the maturing of the army itself, as it learned how to wage war on a big scale. It was not a smooth, seamless process. For several years it was more than likely that the British would fail in Portugal and Spain.
True Soldier Gentlemen and its sequels aim to bring to life the world of the redcoat, and tell the story of how Wellington's army rose to be such a formidable machine. It is a tribute to the men of that army - and the women who accompanied them to war or waited behind. Few of those in England at the time had any idea, or indeed interest, in the savagery of the Peninsula War, which was fought out of their sight. These are military adventures with a hint of Thackeray and a hefty dash of Austen, and alongside our heroes in the 106th regiment is Wickham, the rascal from Pride and Prejudice, whose further career will be revealed in the series!
VIDEO Introduction to the series
Napoleonic fiction - books

full jacket

True Soldier Gentlemen

Published by:
Weidenfeld & Nicolson (January 2011)


Larger image

Beat the Drums Slowly

Published by:
Weidenfeld & Nicolson (August 2011)


Larger image

Send me safely back again

Published by:
Weidenfeld & Nicolson (August 2012)


Larger image

All in Scarlet Uniform

Published by:
Weidenfeld & Nicolson (August 2013)


Larger image

Run Them Ashore

Published by:
Weidenfeld & Nicolson (August 2014)


Larger image

Whose Business is to die

Published by:
Weidenfeld & Nicolson (June 2015)
Plans may change, but at the moment the idea is for a series of twelve novels, culminating in Waterloo.