Adrian's blog
2009-07-26
Supersizers eat ... Ancient Roman
For those in the UK, the episode of the Supersizers about the Romans is on BBC2 at 9pm this Monday (27th July). I have not seen it, so will be interested to take a look. It is all pretty light hearted - and I take no responsibility for the pastry in the final course of the feast.
2009-07-22
A couple of novels
Again something a little different, as I am currently a few chapters in to Harry Sidebottom's novel King of Kings, the second in his Warrior of Rome Series set in the AD 250s. I enjoyed the first one, and am finding this just as good.
It seems to be something of a month for historical fiction, because not long ago I finished Christian Cameron's Tyrant set in the fourth century BC, and recounting the adventures of Kineas, an exiled Athenian aristocrat who fights first under Alexander the Great, but then ends up as a mercenary fighting against the Macedonians by the Black Sea.
I am a tough audience for novels set in the ancient world, although I really do like good ones. However, I find that little things can jump out at me and ruin my enjoyment - somehow it breaks the spell and makes it hard to believe what is going on. Sometimes it is because characters act or speak in a way that just does seem real for the ancient world - perhaps too modern, or just false. Military details often cause me to struggle, especially if someone is writing about the Roman army, so that I get bothered by things that wouldn't and shouldn't matter to just about anyone else. It is sometimes easier to read a story set in a period I don't know. I can recommend these two books - both part of a series - because I reckon they get the feel spot-on, as well as being just good yarns. You can always argue about details. After all a novelist does not have the luxury of a historian and can't say, 'well it may have happened this way, or maybe it was like this ... '. In the same way in fiction you can't just leave an episode blank and say no one really knows what happened. So if you enjoy adventures set in the ancient world with a strong military flavour, I think you might enjoy these. For more information on each series see the authors' websites.
Harry Sidebottom's website
Christian Cameron's website
2009-07-12
Caesar's birthday
Tomorrow is the 13th July – Julius Caesar's birthday. For the Romans it was the third day before the Ides of Quinctilis. The Romans had no number zero, so they counted the Ides itself (the 15th) as one, the 14th was two days before the Ides, and the 13th three days before. In Caesar's honour, Quinctilis was named after him.
I have always found it interesting that an army unit stationed in Dura Europos on the Euphrates in the third century AD was still celebrating Caesar's birthday with the sacrifice of an ox. A calendar, known as the feriale duranum, lists the festivals celebrated each year. (A few people think the document is civil rather than military, but I can't say I am convinced by this). Most of the emperors who were deified are mentioned. One of the more surprising inclusions is the birthday of Germanicus (24th May), the father of the Emperor Caligula, and a man who died young and was never emperor himself. This may just be a reflection of his popularity, although if so, it is striking that this lasted for two centuries. Alternatively, it may reflect a military association with his campaigns. If this is the case, then the tradition must originally have come from another unit – perhaps a legion – since the cohort on Dura was formed long after Germanicus' death.
In the last few years I have gone out with friends to celebrate Caesar's birthday, and hope to make this a tradition. We always go to an Italian restaurant, simply because it seems appropriate, even if the modern menus have little in common with ancient Roman cuisine. (Apart from that, I just like Italian food). It has been an enjoyable each time. One of the regular guests is a primary school teacher, so there is now a generation of children in a nearby town who know when Caesar's birthday was. Tomorrow I have to be in London for a meeting, and it looks like I'll be spending the evening travelling back home. We will probably have to do the Italian meal another night. However, if anyone is of a mind, it is a nice gesture tomorrow to raise a glass or spare a thought for Caesar. He has been good to me!
2009-07-04
Rome
Last week I was in Rome filming for a National Geographic Series called Rome Unwrapped. We filmed in the Forum, on the Palatine, on the Capitol, and around the Colosseum. All great fun, with a really nice team from Atlantic TV. Here is a picture of the Arch of Constantine taken while we were waiting to be let up onto the Palatine.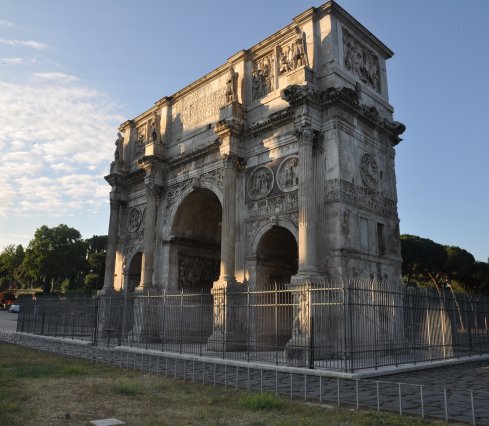 Later that morning we filmed in the House of the Gryphons, which still has its early first century BC wall paintings. I had never been in there before, so that was really nice. Later, they found a bit of scaffolding on the edge of the Palatine which looked out over the Forum and filmed on that. I am not too bothered by heights, but had to kneel down so that the angle was right and the shot would have the Forum in the background, and that was tough on the knees. I ended up taking more than 300 pictures while I was in Rome, which just goes to show how trigger happy you get when you have a digital camera. I'll post a few more of these over the next few days.
2009-06-08
A horse and a cow town!
My apologies for the exceptionally long silence. The initial cause was being very busy with work. This has been followed by taking a tumble while riding so that I now have one arm in a sling. It makes typing rather slow. In particular, it will mean that I will not be able to reply to e-mails to the site as quickly as I would like. Not much news, but I was in Brighton over a week ago and went along to the Komedia club to see the 'Hot Club of Cow Town' perform. It was tremendous fun, and I'd highly recommend the experience. Especially liked the song 'Reunion' which I am told is from their latest album.
page 1 page 2 page 3 page 4 page 5 page 6 page 7 page 8 page 9 page 10 page 11 page 12 page 13 page 14 page 15 page 16 page 17 page 18 page 19 page 20 page 21 page 22 page 23 page 24